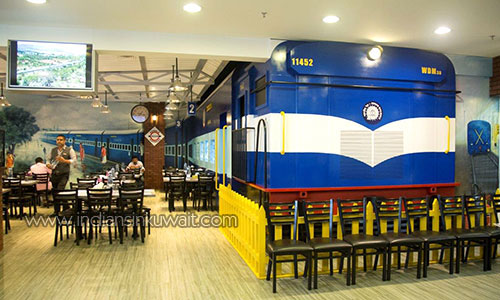 That exact nostalgic moment is what we experienced at the "Kerala Express" restaurant in Fahaheel. Kuwait's popular Thakkara restaurant group brought us the nostalgic feeling of the Train Journey in their theme based restaurant "Kerala Express"
Built around a particular theme, the restaurant takes us to a new world with their ambiance and food. "Kerala Express" gives us an experience of feasting in a Train. Take a break from the normal restaurants and have an unforgettable experience at this train located at 2nd floor of Olive Mart Building, Fahaheel.
Entering the restaurant, it will take us back to the memories of the Indian railway station, with a Book store hanging with all the old time magazines and weekly, an old coin telephone, ticket Counter and finally the "Kerala Express" stationed in its own platform!
Once you enter inside the train compartment, the blue color passenger couch of typical Indian railway style welcomes you with ample seats for dine in. Inside we can enjoy the breath taking sceneries through the window as they have arranged a unique TV display on each seat which resembles the train window and plays the scenes which we typically see from the train. Through these windows, we can see the beautiful Kerala Scenery that we pass when we travel in a Train in Kerala. We could feel the real train journey.
"Kerala Express" offers a multitude of dishes, ranging from the traditional Sadya to seafood delicacies. This restaurant brings in the true taste of Kerala.
We started our culinary journey with complementary Grape Juice and Papad. Their menu is endless. Even though they are specialized in Keralite fish dishes, they also have many varieties from North India. For Starters we ordered Venad Fried Chicken - Quilon style fried chicken tossed with shallots and chili flakes and Wayanadan Kozhi Pongu - Chicken stripes marinated with spices and deep fried. The starters were fantastic with their unique taste.
After the delightful starters we couldn't wait to have the main course. For main course we ordered Kerala Parota (was huge in size and crispy n tasty), Nadan Chicken Curry (Typical Kerala Style), Fish Pollichathu - Marinated fish slice wrapped in banana leaves and grilled on tawa, Fish Meals, Chicken Fried Rice, Chicken Hakka Noodles, Beef coconut fry and Fish Biriyani. I savored every piece of my meal that I could sense happiness run through my veins. All dishes turned out to be excellent and were cooked to perfection. We thoroughly enjoyed the Kerala Cuisine. For deserts we ordered Fresh Fruit Salad with Ice Cream. It was a fabulous way to end the meal.
The service was excellent, prompt and the dishes were presented in an elegant manner. The staff was very helpful in suggesting the dishes according to our taste.
The restaurant also offers dine in outside with a nostalgic feeling of railway station platform. The train stationed on the track will complement your memories while enjoying your meal.
Thakkara "Kerala Express" is located in Olive Mart Building, Fahaheel, Kuwait. It is open from 11:30 AM to 11:30 PM. 11:30 AM – 3:30 PM they serve only meals for the lunch. Their menu items starts from 3:30 pm.
The Restaurant has a seating capacity of 110 Diners. Inside the train its around 46 seaters. They Provide party hall.
We enjoyed every bite of our feast inside the Train and it was truly a fine dining experience. It is a must try experience especially for your kids where many of them are missing this nostalgic train journey which we always cherish.
Written by - Deepika Nambiar